Ristorante Groto de Corgnan address
Via Corgnan 41,
37015 Sant'Ambrogio di Valpolicella (VR)
Tel: +39 331 2007499 (Italian and English spoken)
email: ristorante@grotodecorgnan.it.
For parking, turn left into via Palà just before our restaurant, and in less than 100m you will find a large public car park
Opening hours*
September: we are open for dinner from Monday to Saturday from 19:30 and for lunch on Saturday and Sunday from 12:30.
Reservations essential
*For a group of 6 or more people we are able to open for lunch or dinner any day of the week (outside our normal opening hours). We can also adjust our menu to suit various requests and budgets. We just ask you to please contact us in advance for group reservations.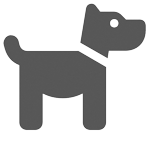 four-legged friends are welcome

Keep updated with Groto de Corgnan
Please sign up if you would like to be kept up-to-date about Groto de Corgnan. We are an intimate venue and take your privacy very seriously. We will only use your information to contact you about changes to our menu, special events and offers and it will not be shared with any other party. For our latest news and current events please follow us on Facebook and Instagram .